GC True Blue hosting banquet, cookoff | Navasota Examiner – The Navasota Examiner
Grimes County True Blue Foundation is hosting its second annual banquet featuring The Bellamy Brothers, Friday, Aug. 19, at the Grimes County Fairgrounds. New this year is a sanctioned barbecue cookoff.
The banquet features great musi c, a steak dinner and two notable guest speakers – Texas Highway Patrol Chief Orlando Alanis and Polk County Deputy Sheriff and Harris County Sheriff Candidate, Joe Danna. Only standing room only tickets remain.
Grimes County True Blue Foundation assists law enforcement in a variety of ways:
• Equipment Procurement – Fulfill additional needs of officers by procuring equipment departments lack funding to purchase.
• Assisting Injured Law Enforcement Officers – Provide financial support and other needs of officers who have been injured in the line of duty and have been forced into early retirement.
• Providing LEO Scholarships – Assist with scholarships to attract men and women to attend the academy to become law enforcement officers.
The Bellamy Brothers
The Bellamy Brothers continue to prove the trail they've ridden to fame has been as unique as their music itself— music that is now celebrating 30 years of success.
Their first big break came in the form of the hit, "Spiders & Snakes," written by David and recorded by Jim Stafford. The song became a smash hit and became the catapult that rocketed the brothers onto the L.A. music scene. The Bellamys officially lifted off the launch pad in 1976 when their single, "Let Your Love Flow," became an instant smash in both the U.S. and Europe. It stayed on the international charts long enough to build a huge international fan base.
True to their musical roots, their style and their songwriting was moving steadily more towards their raising. By the late '70's The Bellamys emerged on the country charts with another bona fide smash. "If I Said You Had A Beautiful Body (Would You Hold It Against Me)," originally scrawled on a dinner napkin by David, rocketed them to the top of the country charts. It proved to be the first of a string of fourteen #1 singles in the U.S. alone. Success followed success: "Dancing Cowboys," "Sugar Daddy," "You Ain't Just Whistlin' Dixie," "Lovers Live Longer," "Do You Love As Good As You Look," "Redneck Girl," "For All The Wrong Reasons," "I Love Her Mind," "I Need More Of You," "Old Hippie," "Too Much Is Not Enough," "Kids Of The Baby Boom," and "Reggae Cowboy" and "Crazy From The Heart,"… all have lined the corridors of the Bellamy's musical history and their walls with platinum and gold.
The Bellamy Brothers hold the record in both the Academy of Country Music (ACM) and the Country Music Association Awards (CMA) for the most duo nominations. Numerous Grammy nods have also been directed toward the brothers.
These days when the subject turns to touring, The Bellamys are showing a new generation of country music how it's done. "We're old road dogs," grins Howard when asked about the motivation behind the brothers 200 plus concert dates each year. Adds David: "Our live draw is bigger than it was in the '80's. I think the same people that grew up with us and with our music in the '60's and '70's obviously have raised a whole new generation of Bellamy fans who started toddling to our music. Now they're turning up at our concerts as college kids, who are really turned on and tuned in to us and our music. It's a great feeling."
Inaugural Cookoff
The Grimes County True Blue Foundation Inaugural Cookoff is sanctioned by Champions Barbecue Alliance, however teams don't have to be CBA members to participate.
Four categories will be judged: chicken, pork ribs, pork butt and brisket. Entry fee is $225 per team and there is a $10,000 payout.
For more information about the mission of the Grimes County True Blue Foundation, purchase banquet tickets or register for the cookoff, visit, https://grimescountytrueblue.org.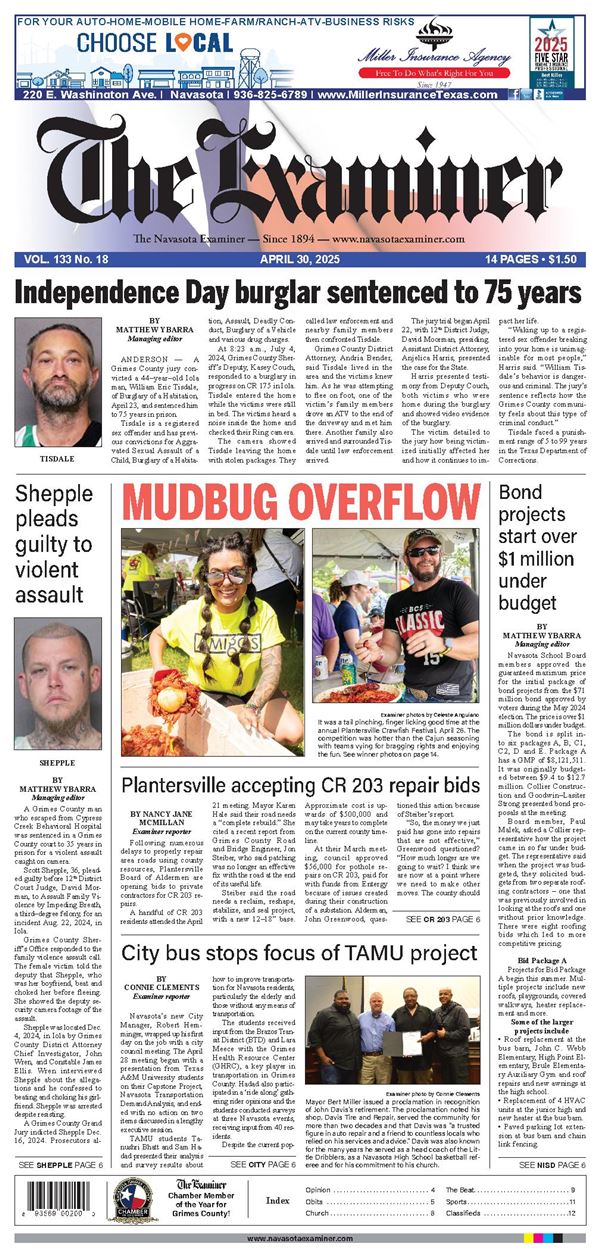 Click here to read Navasota Examiner
Navasota Examiner Copyright © 2022