NC State Will Host Marshall in 2023 After Cincinnati Cancels Home-and-Home Series – Pack Insider
Why is NC State's new 7 footer, Mady Traore, not on the roster?
WATCH: NC State's new 7-footer has a new highlight reel and it's pretty impressive
IG: Get to know the Wolfpack Basketball Players!
NC State basketball fans get their first Dusan Mahorcic sighting at team meeting
NC State Men's Basketball Will Face Difficult Odds in Battle 4 Atlantis
NC State's Depth Chart vs. Texas Tech
NC State Player Grades vs. Charleston Southern
NC State vs. Charleston Southern Snap Count Report
NC State is a 9.5-Point Favorite Over Texas Tech
NC State Will Host Marshall in 2023 After Cincinnati Cancels Home-and-Home Series
Analysts predicting that 4-star Silas Demary Jr. will pick NC State
Big weekend of highly ranked visitors coming up for NC State Basketball
NC State Reaches out to Nebraska PG Decommit Chase Clemmons
4-Star Power Forward Sammie Yeanay Planning Unofficial Visit to NC State
PI EXCLUSIVE: An interview with 2023 7-foot Wolfpack Prospect Braden Pierce
NC State 2023 Football Commits Week 4 Report
4-Star WR Alex Taylor Will be at the NC State vs. Charleston Southern Today
NC State Football Recruiting Update: 9/9/22
NC State Football Recruits Taking Official Visits this Weekend
NC State Makes Top-6 for 3-Star Tight End C.J. Jacobsen
Dereon Seabron signs 2-way contract with NBA's Pelicans after showcasing improved 3-ball
Former NC State Pitcher Carlos Rodon Breaks Giants Record for 10+ Strikeout Games
15 Former NC State Football Players Starting in Week 1 of 2022 NFL Season
TUFFY TALK: Mike Glennon talks about his time at State, how Tom O'Brien let loose after he was fired, and his NFL career
Former NC State RB Zonovan Knight Released by Jets, Added to Practice Squad
NC State's All-Time NFL Passing Leaders Headed into 2022 Season
WATCH: NC State Upsets UCLA in 1974 NCAA Tourney
A look back at NC State great Tommy Burleson, on his birthday
JERSEYS IN THE RAFTERS: Vic Molodet: #73
Jerseys in the Rafters: Lou Pucillo: #78
WPN's Guide to the Duke-UNC Game
What a Year for NC State Athletics
NC State Swimmers a Part of 14 World Championships Medals
WPN Reset: NC State Football Returns More and MBB in Reynolds
This was the Best NC State Athletics Week EVER…
Published
on
By
On September 6th, news broke that Cincinnati was cancelling a home-and-home series against NC State. The Wolfpack were set to host the Bearcats next year, and then travel to Cincy in 2029.
It has now been confirmed that Marshall will replace Cincinnati on NC State's schedule in 2023, and the game will be held in Raleigh.
BREAKING: Marshall football has named a replacement opponent for Navy in 2023, per Athletic Director Christian Spears.
NC State, who just got dropped by Cincinnati, will host the Herd in a non-conference game in Raleigh instead.
— Luke Creasy (@LukeCreasy) September 11, 2022
Marshall made national headlines yesterday, defeating #8 Notre Dame 26-21, improving to 2-0 on the season.
NC State is 5-0 all-time against the Thundering Herd. Four out of the five games have been held in Raleigh.


With the addition of Marshall, here's a look at the Wolfpack's 2023 non-conference opponents.
@UCONN
VMI
Notre Dame
Marshall


Matthew is Co-Owner of Pack Insider. He writes for all sports, with a focus on football and recruiting, and is in charge of business strategy. He is an NC State alum who majored in business. Matthew is also the lead pastor of The Point Church in Cary, NC.
Published
on
By
NC State's Football team has released their Depth Chart for this Saturday's game vs. Texas Tech at home at 7pm.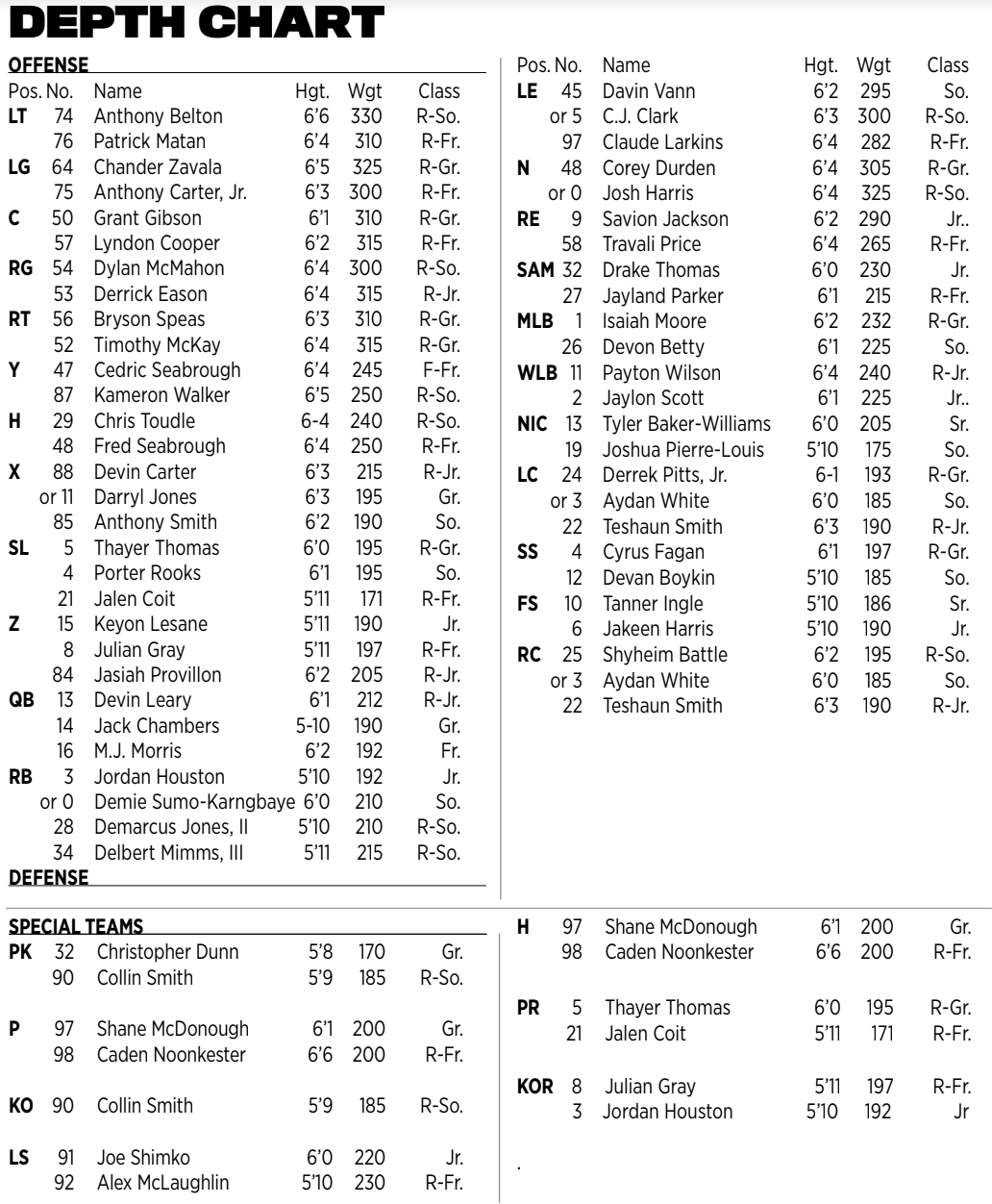 There are no notes to share, considering the depth chart is identical to last weeks Depth Chart vs. Charleston Southern.

Published
on
By
Below is a breakdown of how NC State's individual players graded out in the Wolfpack's 55-3 victory over Charleston Southern on Saturday, according to ProFootballFocus.
Defense (15+ snaps or more)
Junior Cornerback Teshaun Smith – 83.7
Senior Safety Cyrus Fagan – 80.6
Senior Nickel Tyler Baker-Williams – 76.6
Sophomore Linebacker Devon Betty – 75.8
Junior Linebacker Drake Thomas – 74.4
Sophomore Defensive End Davin Vann – 72.1
Freshman Linebacker Jordan Poole – 72.0
Senior Linebacker Isaiah Moore – 71.4
Senior Cornerback Derrek Pitts Jr. – 69.9
Junior Safety Jakeen Harris – 67.2
Sophomore Nickel Devan Boykin – 66.5
Freshman Defensive End Travali Price – 66.3
Senior Safety Tanner Ingle – 66.3
Sophomore Nose Tackle Joshua Harris – 63.9
Sophomore Cornerback Aydan White – 63.7
Senior Nose Tackle Cory Durden – 62.2
Sophomore Nickel Joshua Pierre-Louis – 62.0
Freshman Linebacker Caden Fordham – 61.0
Senior Defensive End Savion Jackson – 58.5
Freshman Linebacker Jayland Parker – 57.1
Junior Linebacker Jaylon Scott – 56.0
Sophomore Defensive End C.J. Clark – 50.2
Offense (15+ snaps or more)
Junior Quarterback Devin Leary – 90.6
Freshman Running Back Demie Sumo-Karngbaye – 79.6
Senior Tackle Timothy McKay – 77.3
Senior Tackle Bryson Speas – 77.3
Sophomore Guard Dylan McMahon – 75.2
Sophomore Tight End Christopher Toudle – 74.9
Junior Running Back Jordan Houston – 74.6
Senior Guard Chandler Zavala – 74.3
Sophomore Wide Receiver Anthony Smith – 71.8
Senior Center Grant Gibson – 71.8
Sophomore Running Back Delbert Mimms III – 70.8
Freshman Wide Receiver Julian Gray – 67.7
Junior Guard Derrick Eason – 67.5
Sophomore Tackle Anthony Belton – 67.4
Freshman Guard Anthony Carter Jr. – 66.8
Junior Wide Receiver Keyon Lesane – 66.7
Freshman Center Lyndon Cooper – 66.1
Junior Wide Receiver Devin Carter – 63.2
Senior Wide Receiver Thayer Thomas – 61.9
Freshman Wide Receiver Jalen Coit – 61.2
Senior Wide Receiver Darryl Jones – 61.0
Sophomore Wide Receiver Porter Rooks – 60.7
Freshman Running Back Devin Gardner – 58.2
Freshman Wide Receiver Jakolbe Baldwin – 56.2
Freshman Tight End Ezemdie Udoh – 51.5
Freshman Tight End Cedric Seabrough – 49.5
Senior Quarterback Jack Chambers – 48.5
Freshman Tight End Fred Seabrough – 42.8

Published
on
By
Below is a breakdown of who all played for NC State in their home opening victory over Charleston Southern this past Saturday, and how many snaps they played in.
Offense
Sophomore Tackle Anthony Belton – 71
Senior Tackle Timothy McKay – 58
Sophomore Guard Dylan McMahon – 57
Senior Guard Chandler Zavala – 54
Junior Guard Derrick Eason – 52
Junior Quarterback Devin Leary – 50
Senior Center Grant Gibson – 50
Freshman Wide Receiver Julian Gray – 43
Sophomore Wide Receiver Anthony Smith – 39
Senior Wide Receiver Thayer Thomas – 30
Senior Quarterback Jack Chambers – 25
Sophomore Wide Receiver Porter Rooks – 23
Sophomore Tight End Christopher Toudle – 22
Freshman Wide Receiver Jalen Coit – 21
Junior Running Back Jordan Houston – 21
Sophomore Running Back Delbert Mimms – 20
Freshman Tight End Fred Seabrough – 19
Freshman Tight End Cedric Seabrough – 19
Junior Wide Receiver Devin Carter – 19
Senior Guard Bryson Speas – 19
Freshman Running Back Demie Sumo-Karngbaye – 18
Freshman Tight End Ezemdi Udoh – 17
Freshman Offensive Lineman Lyndon Cooper – 16
Freshman Wide Receiver Jakolbe Baldwin – 16
Freshman Offensive Lineman Anthony Carter Jr. – 16
Senior Wide Receiver Darryl Jones – 16
Freshman Running Back Devin Gardner – 15
Junior Wide Receiver Keyon Lesane – 15
Freshman Wide Receiver Ashton Locklear – 14
Freshman Offensive Lineman Patrick Matan – 13
Freshman Offensive Lineman Sean Hill – 13
Sophomore Tight End Kam Walker – 13
Sophomore Running Back Demarcus Jones – 13
Freshman Quarterback MJ Morris – 12
Freshman Wide Receiver Dillon Mosley – 10
Freshman Offensive Lineman Matt McCabe – 10
Junior Wide Receiver Jasiah Provillon – 9
Freshman Offensive Lineman Thornton Gentry – 3
Freshman Offensive Lineman Jaleel Davis – 3
Freshman Wide Receiver Josh Crabtree – 3
Defense
Sophomore Cornerback Aydan White – 43
Senior Cornerback Derrek Pitts Jr – 39
Senior Safety Tanner Ingle – 38
Senior Safety Cyrus Fagan – 38
Junior Linebacker Drake Thomas – 34
Sophomore Defensive End Savion Jackson – 29
Sophomore Defensive End Davin Vann – 28
Sophomore Nickel Joshua Pierre-Louis – 26
Senior Nickel Tyler Baker-Williams – 26
Sophomore Linebacker Devon Betty – 25
Freshman Defensive End Travail Price – 24
Junior Linebacker Jaylon Scott – 23
Junior Safety Jakeen Harris – 23
Senior Nose Tackle Cory Durden – 23
Freshman Linebacker Caden Fordham – 20
Sophomore Defensive End C.J. Clark – 20
Sophomore Nickel Devan Boykin – 19
Sophomore Nose Tackle Joshua Harris – 19
Junior Cornerback Teshaun Smith – 19
Senior Linebacker Isaiah Moore – 19
Freshman Linebacker Jayland Parker – 17
Freshman Linebacker Jordan Poole – 15
Freshman Cornerback Nate Evans – 14
Sophomore Defensive End Jerome Williams – 14
Freshman Defensive Lineman Zyun Reeves – 13
Freshman Safety Sean Brown – 11
Freshman Defensive End Claude Larkins – 11
Freshman Safety Jalen Frazier – 11
Freshman Linebacker Patrick Turner – 8
Freshman Cornerback Christopher Scott Jr. – 8
Freshman Linebacker Colby Johnson – 7
Junior Safety Rakeim Ashford – 6
Senior Safety Dreshun Miller – 6
Sophomore Defensive End Alec Neugent – 4
Sophomore Linebacker Jamie Shaw – 4
Freshman Safety Walt Gerard – 3
Junior Linebacker Aristotle Bowles – 3
Freshman Nickel Clay Craddock – 3




Published
on
By
#16 NC State will host Texas Tech on Saturday at 7pm on ESPN2, and the Wolfpack are 9.5-point favorites to beat the Red Raiders.
Obviously odds can move up and down, and different places have different spreads. Depending on where you look, the Wolfpack opened as 8/8.5-point favorites, but then saw the spread increase. FanDuel has NC State as 10.5-point favorites.
The Total is currently 55.5.
Both NC State and Texas Tech are both 1-1 against the spread thus far in 2022. The Total has gone OVER in both of the Red Raiders' games, and it has done so in 1 of NC State's 2 games.
Notes
I can only find odds info on the last two times NC State and Texas Tech have played one another. The Wolfpack won both games. In 2003, NC State defeated Texas Tech 49-21, entering the game as a 6-point favorite. In 2002, the Wolfpack defeated the Red Raiders 51-48, entering the game as 2-point underdogs.

Copyright © 2022 PackInsider LLC