CLSC hosting Tour of Homes in December – Graham Leader
The Chautauqua Literary and Scientific Club is hosting the annual Tour of Homes in December showcasing four local homes and a nonprofit organization. The organization raises funding from the event as a donation for the Library of Graham.
The first tour of homes was held Dec. 15, 1966, with five homes on the tour. Over 50 years later the tour will be held again from 1:30-6 p.m. Wednesday, Dec. 14, with tickets available for $20 per person at any tour site location. The club traditionally features four homes and one area nonprofit on the tour each year, according to Tour Chair Weta Phillips.
"Members of our club will be at each door selling tickets (…). All the women in our club, we just sign up and we act as hostesses and help at the homes, as needed, and then the homes are just opened for tours," she said. "Last year, we raised about $5,000 that we gave to the public library."
The tour will feature the homes of Brent Ballow and David Dupree at 703 Virginia St., Danice and Shawn Grisham at 3576 U.S. Hwy. 380 East, Stephanie and Tim Gulbranson at 518 FM 3003, Lot 26 and Cathy and Brad Partridge at 712 FM 3003, Lot 47. Phillips said those with an interest in having their home featured on the tour can contact the organization.
For the full story, see the Wednesday, Nov. 23 edition of The Graham Leader.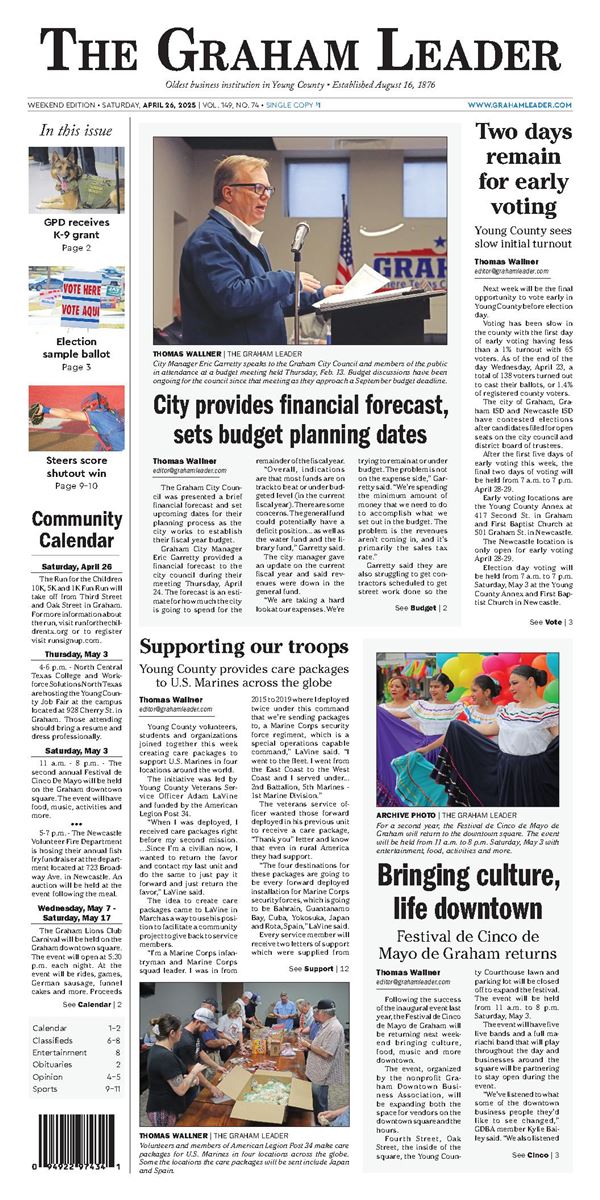 GRAHAM OFFICE
620 Oak Street
P.O. Box 600
Graham, Texas 76450
Phone: (940) 549-7800
Fax: (940) 228-0589
Graham Leader Copyright © 2022